THE NEUROSCIENCE OF ACTING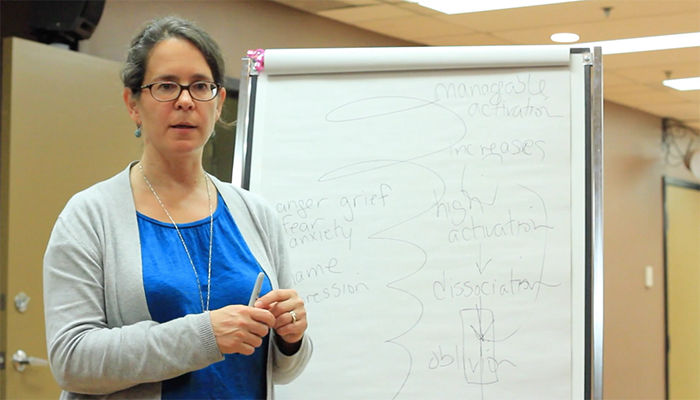 with Carrie Dejong and Matthew Harrison
DATE & TIME
Saturday and Sunday, NOVEMBER 30th/DECEMBER 1st
*****THIS CLASS IS FULL*****
INSTRUCTORS
Carrie Dejong I WEBSITE
Matthew Harrison | IMDB Profile
CLASS DESCRIPTION
Stephen Porges is a neuroscientist and developer of the polyvagal theory. His research provides us with an incredible framework to understand ourselves, how our nervous system is wired, the ways we experience connection with others, and how we respond in stressful situations.
In this workshop, we're exploring the craft of acting from a polyvagal-informed perspective. That simply means understanding our nervous system in ways that support a deeper connection to self and a better understanding of how we embody the stories of others – while also helping us manage our own anxieties.
Skilled actors are able to bring a certain "stage presence" to their work – they have charisma that draws the attention of others. Director Jonathan Warman's description of optimal stage presence is the ability to be energized on the inside but holding that energy just beneath your skin with stillness and confidence.
Essentially, acting requires an internal sense of security, a dynamic physicality, and a nimble responsiveness to both the scene and our scene partners. Polyvagal theory proves a phenomenal framework for understanding how we access these important qualities.
There is a voice that doesn't use words. Listen."
- Rumi

SATURDAY Morning:
Understanding the Polyvagal Theory
Understanding the 3 circuits
Safety cues allowing social engagement
Danger cues leading to flight or flight
Life-threatening cues leading to shutdown
Creating safe anchors
Mapping your nervous system
Learning to name and notice your state
SATURDAY Afternoon:
Understanding the power of connection
Understanding emotion through the lens of Polyvagal Theory
Exercising our nervous system – learning how to shift states
Exploring nervous system states through connection, gaze, movement, and touch
SUNDAY Morning:
Learning nervous system regulation tools
More complexities of the nervous system (awe, play, competition, and intimacy)
Exploring nervous system states through sight, sound, breath, and story
SUNDAY Afternoon:
Personal applications:
Identifying regulation tools for auditions and performance
Understanding comparison, competition, and the shame cycle
Acting scenes from various nervous system states
Scene study: mapping the states of scenes
Debrief and closure
Carrie DeJong MC, RCC
Carrie is a Registered Clinical Counsellor (RCC) with the British Columbia Association of Registered Clinical Counsellors (BCACC). She holds a Master's degree in Counselling (MC) and has over 20 years experience working in trauma treatment programs, residential addiction treatment, and private practice.
Carrie focuses on bringing greater awareness to the impacts that anxiety, chronic stress, and trauma have on emotions and overall functioning, especially the use of mood-altering substances and behaviours to cope. She offers non-judgmental help for addressing unhealthy behaviours.
Her therapeutic approach is rooted in an understanding of how the human nervous system is wired. She is an avid learner of neurobiology, body-centred approaches to therapy, Polyvagal theory, and attachment theory. Her goal is to provide an environment offering tools, support, and hope for clients to move forward in their lives.
Carrie is a fellow teacher at the FOUNDRY and regular facilitator at the Foundry's SUMMER RETREAT.
PREREQUISITES
None - Just a professional work ethic and the desire to learn from consumate professionals
COST
$425 ($446.25 with GST_
AUDIT­ING POL­ICY
Audi­ting not available for this class
PAYMENT TYPES
Visa, MasterCard, Discover, PayPal
REGISTER YOUR SPOT
Please com­plete the form below. PLEASE NOTE: pay­ment is required to con­firm your reg­is­tra­tion. When you com­plete the form and click 'Complete Payment and Secure Registration' you'll be taken to our Pay­Pal form, but if you don't have a Pay­Pal account you can use any major credit card. Registrations that do not have a payment are not confirmed and do not come through to the administration.
Also note that reg­is­tra­tion in the class is final and pay­ments non refund­able as of 96 hours prior to the start date of the class, so make sure you let us know in writ­ing if you need to cancel! There is a $50 processing fee for each cancellation.