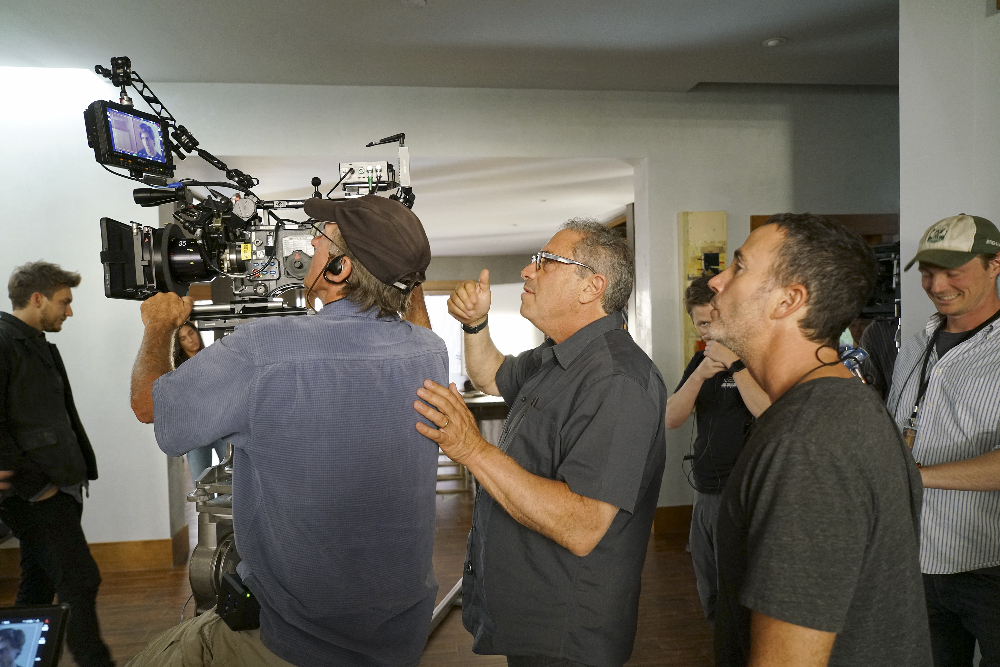 directing the actor
A

FOUR WEEK CLASS FOR DIRECTORS AND ACTORS
STUDYING THE ACTOR/DIRECTOR RELATIONSHIP ON SET
DATES & TIMES
TBA
INSTRUCTORTBA
Matthew Harrison | IMDB Profile
Michael Nankin l IMDB Profile
THIS CLASS IS NOW FULL AND CLOSED TO ACTORS AND DIRECTORS

class description
Director/Exec Producer MICHAEL NANKIN and Acting Teacher MATTHEW HARRISON work with a class of DIRECTORS AND ACTORS…teaching how to direct actors and how to take direction form directors…
A specialized class working from both the professional actor and director perspective.
In this class we will be breaking down the wall between director and actor, Michael and Matthew will work with both DIRECTOR and ACTORS on preparation, blocking, camera positions and performance…and most of all: communication and collaboration.
Actors and directors will be teamed into groups and work on scenes to be shot in class by an "on set" crew. Scenes will be filmed and reviewed.
Week 1: "Group Direct" of a scene. Two invited professional actors will prepare a scene in advance. Michael will work with them in front of class and analyze, rehearse, block, choose camera positions, and finally perform the scene. The class will participate in a team effort to bring the scene from page to performance…and class discussion will clarify the general theory of working together on set.
Week 2: "First Team Rehearsal". Actors and Directors will be teamed together and assigned scenes in advance. One at a time, each team will participate in an analysis, rehearsal, and directing approach and choices. Guided and coached by Michael and Matthew.
Week 3: "The Shoot". One at a time, Actor/Director teams shoot their scenes with the provided on-set crew…with other teams perfuming crew functions as well. Guided and coached by Michael and Matthew.
Week 4: "The Dailies". A review of the raw footage, and a critical discussion with Michael on the what succeeded and what did not…alternate approaches, and a review on the director-actor collaboration.
Actors and directors are required to work together intimately, often without having even met before they show up on set. Often each group is wary or even afraid of the other. Directors need to be able to talk to actors in a shared language, and actors need to be able to decipher any kind of direction. This class is designed to demystify each group to the other, to forge bonds, learn the needs of each other and find a common vernacular so that work on the set can flow quickly and professionally. We'll explore tools that will create shortcuts to excellence and fearless joy on the set.
PREREQUISITES
None - Just a professional work ethic and the desire to learn from the best
COST
$395 for 4-week class (includes Tax)
AUDIT­ING POL­ICY
Audi­ting is not available for this class
PAYMENT TYPES
Visa, MasterCard, Discover, PayPal
REGISTER YOUR SPOT
Please com­plete the form. Note that pay­ment is required to con­firm your reg­is­tra­tion. Registrations that do not follow throuh with a payment are not seen by administration, When you com­plete the form and click 'Complete Payment and Secure Registration' you'll be taken to our Pay­Pal form, but if you don't have a Pay­Pal account you can use any major credit card.
Also note that reg­is­tra­tion in the class is final and pay­ments non refund­able as of 96 hours prior to the start date of the class, so make sure you let us know in writ­ing if you need to cancel! There is a $50 processing fee for each cancellation.
THIS CLASS IS NOW FULL AND CLOSED TO ACTORS AND DIRECTORS